Long ago, at many times and in many ways, God spoke to our fathers by the prophets, but in these last days He has spoken to us by His Son. (Hebrews 1:1,2 ESV)
It says that in times past God spoke "in many ways," not only in different portions, but in different manners. It would take too long for us to go back to the Old Testament to see all the manners in which God spoke. He spoke by a thousand different means: sometimes by words and sometimes by acts. The manners were indeed "diverse." However, the statement here is that at the end He speaks in one way, one all-inclusive way, and that is in His Son. God's Son is His one inclusive way of speaking at the end. On the one side, no one is going to get anything from God apart from Jesus Christ. God will absolutely refuse to speak other than in His Son. If you want to know what God wants to say to you, you have to come to His Son. On the other side, in Jesus Christ we have all that God ever wants to say....
Yes, we have far more of God's speaking in His Son than we have yet come to understand. We have nothing apart from Jesus Christ, and we need nothing apart from Him. You can read everything that has ever been written on Christian doctrine and still be the same man or woman. God's ways are very practical, and He teaches us by experience. That experience is sometimes very difficult and is called here "the training of sons." May the Lord Jesus just impress our hearts again with these things! God is still speaking in His Son, and His speaking is in order to get companions of His Son. Companions of this heavenly calling and of Christ will go into the hard school and have to learn many hard lessons, but in learning them they will come to understand how great is their inheritance in the Lord Jesus.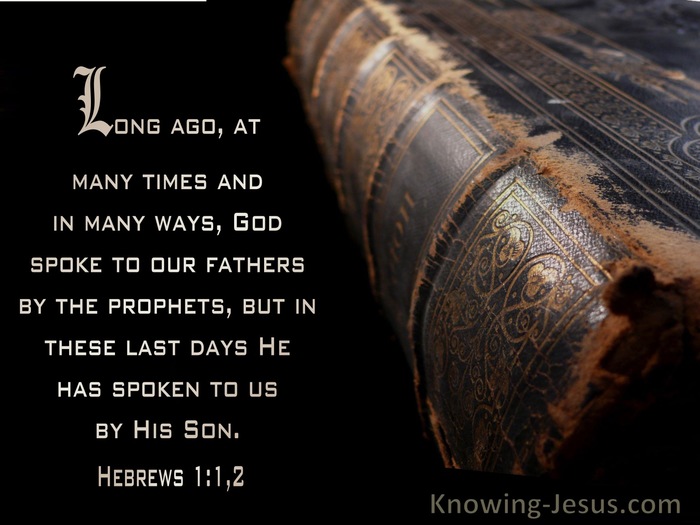 Open Windows messages have been selected and compiled by Austin-Sparks.Net from the works of T. Austin-Sparks. In some cases they appear in abridged form. The introductory verse and its associated Bible version have been selected by the editor and did not always appear within the original message. In keeping with T. Austin-Sparks' wishes that what was freely received should be freely given and not sold for profit, and that his messages be reproduced word for word, we ask if you choose to share these messages with others, to please respect his wishes and offer them freely - free of any changes, free of any charge and with this statement included. Print books can be ordered from Emmanuel Church free of charge.