Blessed is the one who is not offended by Me. (Matthew 11:6 ESV)
The Word of God does take account of the possibility of our being offended with Him. It does not say anywhere that that possibility should never arise and will never arise. The Lord has no where said that we shall never have any occasion for being offended with Him. He HAS indicated that there will be PLENTY of opportunities for so stumbling at Him, falling over Him, coming down because of Him – if you like: crashing because of Him. There will be plenty of occasion or opportunities for doing so. He has never said that it will never be so. It is as well for us to recognize that.
The Lord sent no word of rebuke to poor John the Baptist in the prison when he was perilously near to being offended with the Lord because of his situation. The Lord was not hard on John because of his question. He might, had He been another, have said, "But John, did you not point Me out as the Lamb of God? Did you not proclaim Me as the One, the Messiah? Haven't you preached about Me to multitudes? Have you not made the strongest declarations and affirmations as to what you believed about Me? And here you're asking a fundamental question about Me. John, what's gone wrong with you?" No, nothing like that. The Lord knows our frame, that we are dust. And the Lord, I'm saying, takes account of this ever present possibility, in our weakness, of being offended with Him. But He does attach to this matter a particular blessedness if we don't crash over the Stumbling Block of His ways with us, "AND in addition, blessed is he whoever shall not be offended in Me."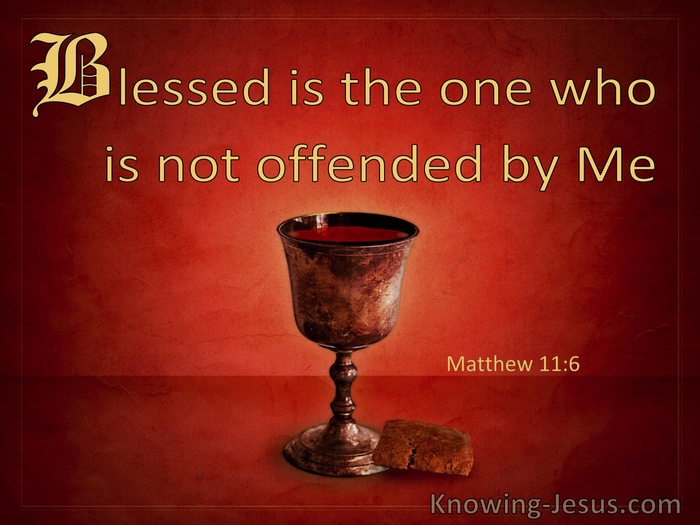 THEODORE AUSTIN-SPARKS (1888-1971) left all his writings freely to the body of Christ. There is no copyright on any of T. Austin Sparks work. It was his heart that they be shared freely. You are free to use his material but they can never be sold for profit. If sharing his material please don't change any wording to keep the original words intact, and please ascribe them to the author. Many of His books can be downloaded for free at the Austin Sparks Library, and Immanuel Church offer to send anyone who desires his print books for free.