Let us then be eager to know this rest for ourselves, and let us beware that no one misses it through falling into the same kind of unbelief as those we have mentioned. (Hebrews 4:11 Phillips)
Why all these exhortations in the New Testament to go on? Why is the New Testament just made up of exhortations and encouragements and warnings to the people of God about going on? And why is the New Testament such a practical Book? Because real spiritual progress and the Presence of the Lord depends upon bringing everything that we know right up to date. I wonder if you could tell me the number of times in the New Testament that that one thing occurs. It is a quotation from Israel's life in the wilderness. And it is this: "Today if you will hear His voice, harden not your heart." Again and again, those words are put in the New Testament. Today! Today! Today! You see, all this has got to be brought into NOW. All our progress for the future depends upon what we are doing with what we know NOW. So the Lord says to us, "I am with you if you are going on. And going on means putting into practice and effect all that I have said to you." Our growing knowledge of the Lord depends entirely upon our daily obedience to the light which we have....
So when the Lord speaks, and we bring that which He has said, and we say: "There is something to be done about this. I do not just put that into the store of my knowledge. I do not just add that to all that I know. I look to see what that requires of me in a practical way. And when I see what that means, then I get to the Lord to have that made real and living in my life." Brethren, the people who do that will be going on. They will be entering the Promised Land. They will be entering into His Rest. They will be entering into the joy of the Lord. Because that is what the Lord wants people who take hold of everything that the Lord says, and make it practical. So the writer of the Hebrews says, "Let us go on." In what other way can we go on? We are not on a literal journey on this earth. Our Promised Land is not somewhere on this earth, in this world. No. Christ is our Promised Land. Christ is God's fullness of purpose for us. So, we have got to take everything that has been said to us about Christ, and put it into practical effect. That is what it means to go on. And that is what it means to have the Lord fully with us!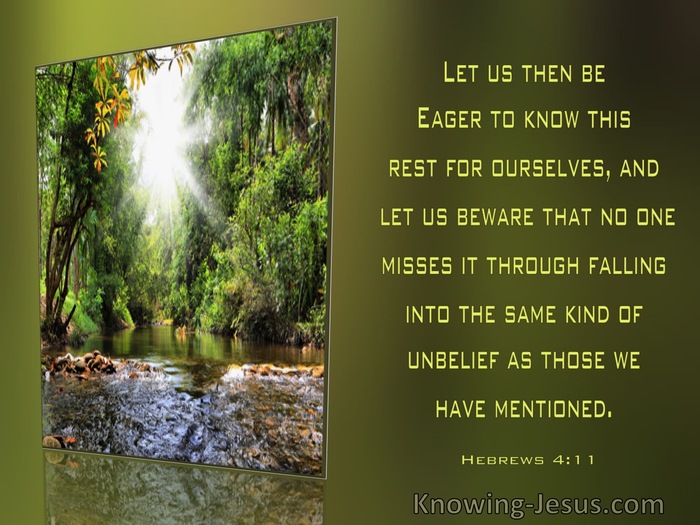 Open Windows messages have been selected and compiled by Austin-Sparks.Net from the works of T. Austin-Sparks. In some cases they appear in abridged form. The introductory verse and its associated Bible version have been selected by the editor and did not always appear within the original message. In keeping with T. Austin-Sparks' wishes that what was freely received should be freely given and not sold for profit, and that his messages be reproduced word for word, we ask if you choose to share these messages with others, to please respect his wishes and offer them freely - free of any changes, free of any charge and with this statement included. Print books can be ordered from Emmanuel Church free of charge.