I pray... that the eyes of your heart may be enlightened in order that you may know the hope to which He has called you, the riches of His glorious inheritance in the saints. (Ephesians 1:18 NIV)
What is Christ inheritance in the saints? What are the riches of the glory of Christ inheritance in the saints? It is that the saints are to provide Him with the means of the universal manifestation of Himself as God has purposed Him to be. It is a part of the arrangement in those counsels of the Godhead, that He shall be the central fullness, but that the fullness should not be manifested, displayed in an isolated way. There would be no purpose in that, because He could have done that in Deity without incarnation, He could have possessed the fullness in that way, and that is what the letter to the Philippians says. He was equal with God, and had all the fullness, but He emptied Himself. Why? In order that others might be brought into the fullness, that He might not hold it all for Himself. That is what Satan wants to do.
The Lord Jesus let go in order to bring others in. The apostle says, i>Let this mind be in you.If any of you are inclined to stand for your own rights, on your own ground, to hold things for yourself, you are violating the very spirit of Christ who let go His own rights in order that others might come into them and get the benefit. So the inheritance of Christ is this: that He is made heir of all things, but He can have all things only as He has the saints, and He gets those ll thingsthrough and in the saints. It is a part of the arrangement, the agreement. It is not as one isolated unit in God universe, that He is to have everything, but by appointment man-wise, in a corporate sense, and not only in a personal sense.... The Lord is not satisfied with His people just being saved, and the Lord is not satisfied that people should just remain saved. The Lord has fixed this as His goal: the full knowledge of Him. It is indispensable to the Lord. His inheritance is bound up with it. The need today is that the Lord own people should come into a knowledge of Himself which they do not possess, into a position in relation to Himself which they do not occupy; in a word: into the full knowledge of Him.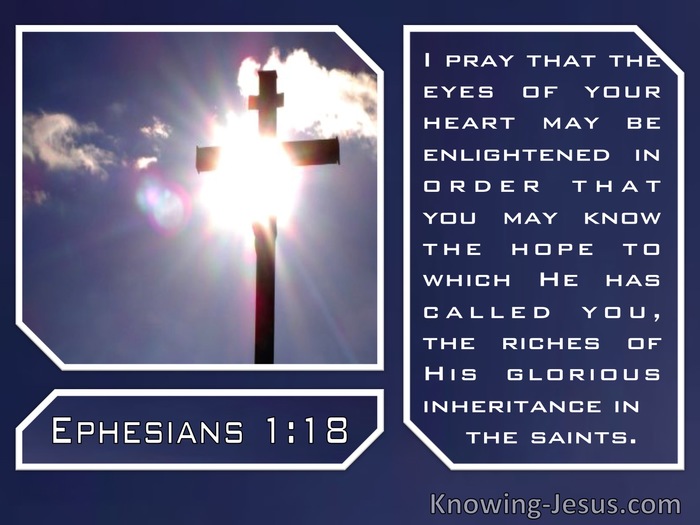 Open Windows messages have been selected and compiled by Austin-Sparks.Net from the works of T. Austin-Sparks. In some cases they appear in abridged form. The introductory verse and its associated Bible version have been selected by the editor and did not always appear within the original message. In keeping with T. Austin-Sparks' wishes that what was freely received should be freely given and not sold for profit, and that his messages be reproduced word for word, we ask if you choose to share these messages with others, to please respect his wishes and offer them freely - free of any changes, free of any charge and with this statement included. Print books can be ordered from Emmanuel Church free of charge.