I counsel you to buy from Me... salve to anoint your eyes, so that you may see. (Revelation 3:18 ESV)
We have to test everything we think we see and know by its effect in our lives. You and I may have an enormous amount of what we think to be spiritual knowledge; we have all the doctrines, all the truths. We can box the compass of evangelical doctrine; and what is the effect? It is not seeing, beloved, in a true spiritual sense, if we are not changed. Yes, seeing is to be changed, and it is not seeing if it does not bring that about. It would be far better for us to be stripped of all that and to be brought right down to the point where we really do see just a little that makes a difference. We must be very honest with God about this. Oh, would we not sooner have just a very little indeed that was a hundred percent effective, than a whole mountain of knowledge, ninety percent of which counted for nothing? We must ask the Lord to save us from advancing beyond spiritual Life, advancing, I mean, with knowledge, a kind of knowledge, presuming to know. You know what I mean. Real seeing, Paul says, is being changed, and being changed is a matter of seeing as by the Lord the Spirit. So we will pray to see....
It is never too late to get spiritual sight, however blind we may have been, and for however long, if we really mean business with the Lord. But do not forget that this is a matter of being honest with God. The Lord Jesus said a wonderful thing to Nathanael. Nathanael was perilously near that double blindness. At the moment when he allowed himself to give expression to a popular prejudice, he was very near the danger zone. He said, "Can any good thing come out of Nazareth?" That is a popular prejudice. A popular prejudice has robbed many a man and woman of knowing God fuller thoughts. Prejudices may take many forms. Let us be careful.... If you are in danger through your prejudice, beware; forsake your prejudice, be open-hearted. Be an Israelite in whom there is no Jacob, no guile, open-hearted to the Lord, and you will see.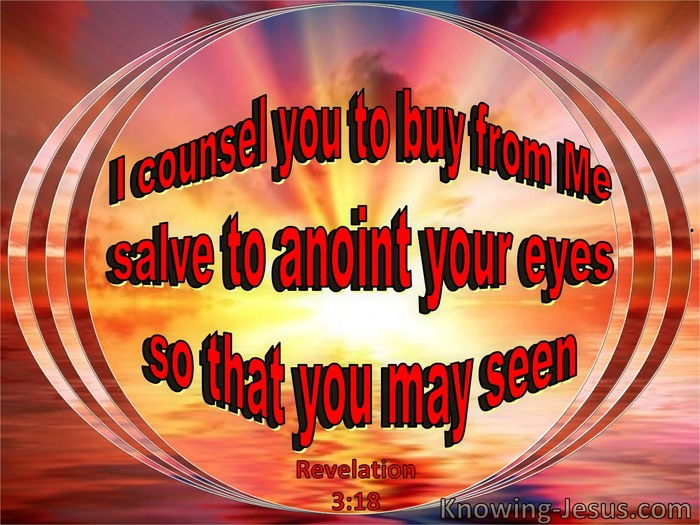 Open Windows messages have been selected and compiled by Austin-Sparks.Net from the works of T. Austin-Sparks. In some cases they appear in abridged form. The introductory verse and its associated Bible version have been selected by the editor and did not always appear within the original message. In keeping with T. Austin-Sparks' wishes that what was freely received should be freely given and not sold for profit, and that his messages be reproduced word for word, we ask if you choose to share these messages with others, to please respect his wishes and offer them freely - free of any changes, free of any charge and with this statement included. Print books can be ordered from Emmanuel Church free of charge.