Jesus... said, hat do you want Me to do for you? They said to Him, ord, let our eyes be opened.(Matthew 20:32,33 ESV)
We shall never see Divine things by the aid of our reason. We shall never see things because they are put plainly to us by the one who ministers. No, it will only be as Jesus of Nazareth comes into touch with us and we with Him. And that applies to every stage of the Christian life. If there are any reading these lines, who have never in the first place had their eyes opened to see, so that the result is Life eternal for knowing is only another word for seeing, and Jesus said, "This is life eternal, that they should know Thee the only true God, and Him whom Thou didst send, even Jesus Christ" (John 17:3); "that they should know" another word for seeing if you have not yet entered into Life, received eternal Life, remember that it will not just happen to you; it will not simply happen. You will have to become tremendously concerned about this and show the Lord that you mean business; you will have to be like Bartimaeus and cry, and "so much the more" cry. Remember that the Lord does so often wait, delay, and hold off, to see if we really place value upon this seeing. We are tested as to how much we esteem His things.
And what is true at the beginning is true all the way along. There is no end to Divine revelation; there is no end to our seeing. Oh, how little we have seen, how little we know, of the vast stores of Divine intention and thought and purpose and meaning. We stand and paddle on the shores of this vast ocean of God and of His purposes and meanings in our creation. How little we know about it! and we are not going to know until we have deep heart exercise. But it is there, and it is there for us, and oh, we have got to come in this way "so much the more." Are you like that after a conference, or after any meeting in which there has been a ministry of God's Word? Are you sure you have seen all that God meant you to see? Are you just hearing what is said? You agree but what is the effect? The real effect waits upon this heart exercise, this crying out and a crying out "so much the more." The Lord is not close and mean, holding it from you, but He is wanting to know that this is of greater price to you than all else; if needs be, of greater price than your sleep, your rest: you are going to give Him no rest until He opens your eyes.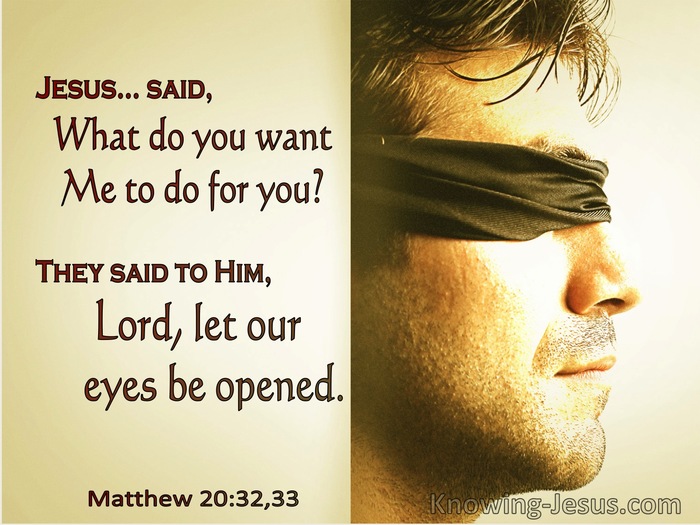 Open Windows messages have been selected and compiled by Austin-Sparks.Net from the works of T. Austin-Sparks. In some cases they appear in abridged form. The introductory verse and its associated Bible version have been selected by the editor and did not always appear within the original message. In keeping with T. Austin-Sparks' wishes that what was freely received should be freely given and not sold for profit, and that his messages be reproduced word for word, we ask if you choose to share these messages with others, to please respect his wishes and offer them freely - free of any changes, free of any charge and with this statement included. Print books can be ordered from Emmanuel Church free of charge.