Let us then be eager to know this rest for ourselves, and let us beware that no one misses it through falling into the same kind of unbelief as those we have mentioned. (Hebrews 4:11 Phillips)
Those who failed to go in failed, it says, to enter into His rest. Those to whom the Gospel was afore preached failed to enter in. That is remarkable! The Gospel was preached to them. These are they to whom the Gospel was afore preached. What is the Gospel? To answer the inquiry in that connection, it is Christ as our Rest. That is the Gospel: and the Gospel of Christ as our Rest was preached to them in type, and they to whom the Gospel was afore preached failed to enter in. Then, says the Apostle, "Let us therefore give diligence to enter into that rest, that no man fall after the same example of disobedience." They failed! God set forth another day, saying, "Today if ye shall hear His voice, harden not your hearts...." The Gospel is preached to believers to enter into His Rest. The Lord Jesus put this in the germ form of truth when He said: "Come unto Me, all ye that labor and are heavyladen, and I will give you rest. Take My yoke upon you, and learnof Me; for I am meek and lowly in heart; and ye shall find restunto your souls." Christ in heaven is our spiritual Rest,heart rest.
What is the essence of rest? Itis satisfaction and assurance. If you are satisfied, you are atrest, no matter how much work you have to do. And if you arequite sure that your work is going to be successful, you haveassurance, and you are in rest. Everything for us is based uponChrist having entered as the Forerunner, and having become ourRest. We shall labor: we shall pour ourselves out; we shallspend; we shall be spent; but in it all there can be real heartrest. We shall be assailed: we shall be pressed on every side; weshall be cast down; we shall be tried; but Christ can stillremain our Rest: for in the first place, we know that thesethings are not going to be to our destruction, since He hasdestroyed the power of destruction; and, in the second place,that our labors are not in vain, because He has swallowed updeath victoriously. He is our Rest.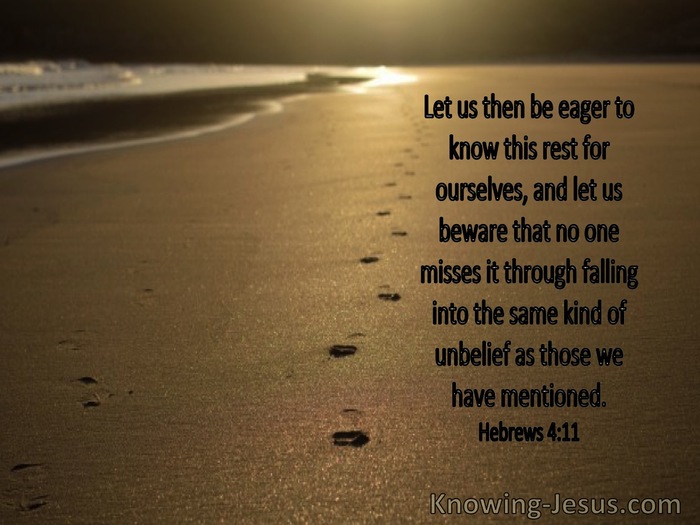 Open Windows messages have been selected and compiled by Austin-Sparks.Net from the works of T. Austin-Sparks. In some cases they appear in abridged form. The introductory verse and its associated Bible version have been selected by the editor and did not always appear within the original message. In keeping with T. Austin-Sparks' wishes that what was freely received should be freely given and not sold for profit, and that his messages be reproduced word for word, we ask if you choose to share these messages with others, to please respect his wishes and offer them freely - free of any changes, free of any charge and with this statement included. Print books can be ordered from Emmanuel Church free of charge.