You are in Him, made full and having come to fullness of life. (Colossians 2:10 AMP)
The Cross is a full and final principle, although it has many aspects. It is a full and final principle. We are going to see that the Cross in its fullness and finality was right there at the beginning of the Bible. As a principle, it was absolute then. It is just in so far as you and I bring our lives at this time of the day back to God fullness in the Cross that we are going to know this progressive development and increase of Life - so far and no more.
The Cross is a great divide. It divides people into three categories. Firstly, it makes a broad division between those who never get into Life, and those who do. Whether men and women get into Life at all depends entirely upon their acceptance of the Cross. But it divides further. It divides between those who do get into Life, and those who go right through to fullness of Life, and there is quite a real division there. Whether you like the theory or not, it is a fact. There are many Christians who are in the way of Life, that is, who have entered the way of Life, but are not going right on to fullness of Life. That is really what the New Testament is about - trying to get Christians who have entered into Life to go on to fullness of Life. The Cross divides between those, because, while we come into the way of Life by the Cross, we also only come into the fullness of Life by the Cross, and that is another thing - a fuller, deeper application of the Cross. So the Cross makes three categories, those not in Life, those in Life, and those in Life going on to fullness of Life.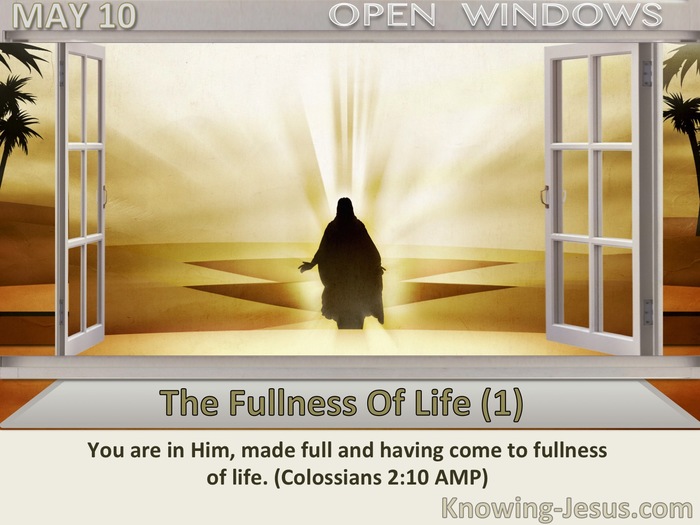 Open Windows messages have been selected and compiled by Austin-Sparks.Net from the works of T. Austin-Sparks. In some cases they appear in abridged form. The introductory verse and its associated Bible version have been selected by the editor and did not always appear within the original message. In keeping with T. Austin-Sparks' wishes that what was freely received should be freely given and not sold for profit, and that his messages be reproduced word for word, we ask if you choose to share these messages with others, to please respect his wishes and offer them freely - free of any changes, free of any charge and with this statement included. Print books can be ordered from Emmanuel Church free of charge.