Where there is no revelation, the people cast off restraint. (Proverbs 29:18 NIV)
No one who knows anything about the present conditions will disagree with the statement that the Church is in tragic need of men with a message, but our point is that what is needed is the knowledge of what the message is for the time. That message must come from God to men chosen for the purpose. This is not a ministry which can be taken up. Usually for such ministry there is a long and deep history with God, a history full of mystery and suffering. Many phases are passed through, all in the permissive will of God, or in His directive will, inasmuch as they are intended to educate and give experience, but the course is never that of the established and settled kind, and so big changes may be called for, each of which comes by a new spiritual crisis. No one can do anything in the making of such vessels, however much they may be concerned for them. This is God's work alone, and they have to be left in His hands....
Men of vision and courage! Yes, and more courage will be required here than in any other realm of which we know. A specific revelation will to begin with set a distance between such as have it and such as have not that specific revelation. This will give rise to many possibilities. Even the best servants of God who have not so seen will probably stand back. It will mean loneliness, and going on alone perhaps for quite a time. It will mean ostracism, misunderstanding, misrepresentation, suspicion, closed doors (so far as man can close them). Then, no revelation from God is ever just verbal truth, it always involves practical issues. These practical issues will appear like the crystallizing of the truth, so that those who obey it will become marked people. This raises a new set of opposing elements. If God has given a revelation concerning His purpose in Christ which is of such vital importance as to have called for all this special history and preparation, we must realize that it is of very great moment to Satan's interests, and he will leave nothing unused to make its course impossible.... If the greatest need of the hour is that of men of vision, along with it will go the need for willingness to pay the price. But there is another side, and that is God's side, and the compensations are great. It is a great thing to be in possession of an open heaven and of a mandate from God.
By T. Austin-Sparks from:
The Need of the Hour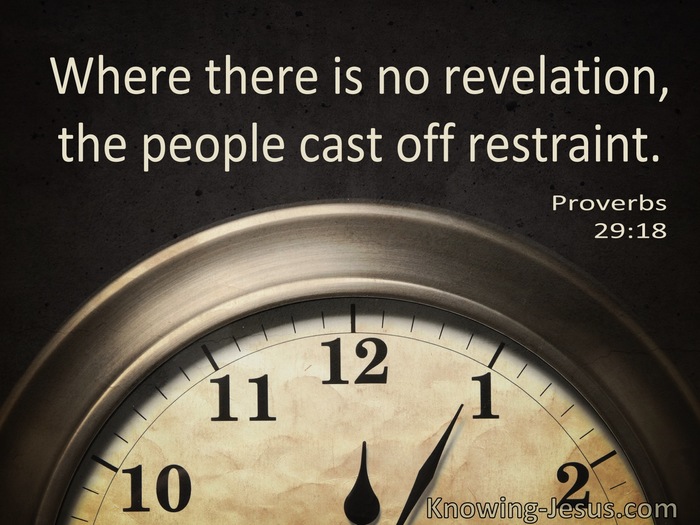 Open Windows messages have been selected and compiled by Austin-Sparks.Net from the works of T. Austin-Sparks. In some cases they appear in abridged form. The introductory verse and its associated Bible version have been selected by the editor and did not always appear within the original message. In keeping with T. Austin-Sparks' wishes that what was freely received should be freely given and not sold for profit, and that his messages be reproduced word for word, we ask if you choose to share these messages with others, to please respect his wishes and offer them freely - free of any changes, free of any charge and with this statement included. Print books can be ordered from Emmanuel Church free of charge.