The things you have heard me say in the presence of many witnesses entrust to reliable men who will also be qualified to teach others. Endure hardship with us like a good soldier of Christ Jesus. (2 Tim 2:2,3 NIV)
We may have our different aspects of work. There are those Levites whose ministry is, shall I say, more essentially spiritual; it may belong to the vessels of the sanctuary. There are others whose work is in another direction. Mine it may be to mainly minister in the Word of the Lord, what a lot of people would call "the spiritual ministry," (I repudiate that suggestion that spiritual ministry is bound up with people who preach that is not spiritual ministry only). There may be others who minister in other spheres such as business life or household work. The Levites were divided into sections of different kinds of work. Some had the rougher work, the heavy bars and boards of the tabernacle, more physically strenuous than the carrying of the pots and the pans and the golden vessels and implements; but it was all Levitical work, they were all one people, one tribe. Responsibility rested upon all equally, for all these parts made one ministry. And so your sphere, your work and mine may differ, but it is one ministry, one calling, one responsibility, one testimony. This emphasis is upon taking it, assuming it, regarding ourselves as being responsible people in the testimony of the Lord.
I am sure the Lord heart must long for that. I am sure that often He has had, in looking at me, to say, "Oh, I wish I could trust him more! I wish he were more reliable, more responsible!" And I know that as I have looked at many of the Lord people I have said, "I wish that they did not need so much looking after; if only they would begin to stand on their own feet, and take responsibility, so that we need not worry about them any more, because we know that they can be trusted!" They need urging and encouraging; and all the time following up and putting right, because they have taken offence, and so on. If only they would take the responsibility and go right on in these things and not need to be looked after. How much more progress the testimony would make! Now may the Lord give us the grace to take our share in the sufferings as good soldiers of Jesus Christ, to be strengthened with the grace that is in Christ Jesus, to bear the testimony of the Lord.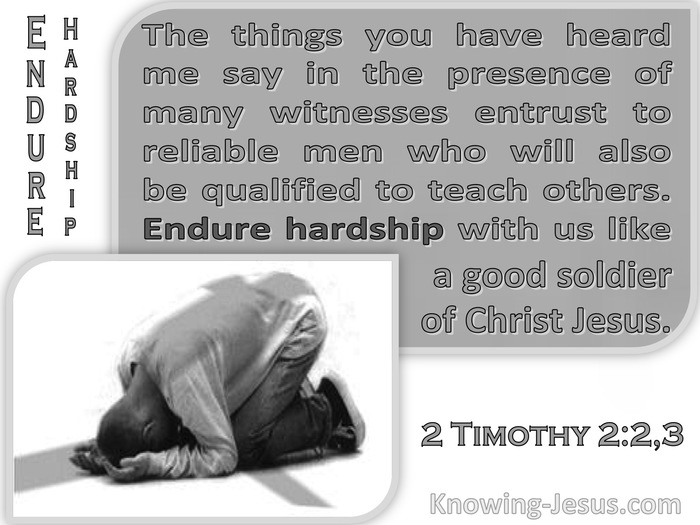 Open Windows messages have been selected and compiled by Austin-Sparks.Net from the works of T. Austin-Sparks. In some cases they appear in abridged form. The introductory verse and its associated Bible version have been selected by the editor and did not always appear within the original message. In keeping with T. Austin-Sparks' wishes that what was freely received should be freely given and not sold for profit, and that his messages be reproduced word for word, we ask if you choose to share these messages with others, to please respect his wishes and offer them freely - free of any changes, free of any charge and with this statement included. Print books can be ordered from Emmanuel Church free of charge.