It is required in stewards, that a man be found faithful. (1 Corinthians 4:2)
I believe that the greatest virtue in the eyes of God is faithfulness; it embraces everything. Faithfulness is after God's own heart. Take a passing glance at this steward Paul the Apostle. "Demas forsook me..."; (2 Tim. 4:10); "...all that are in Asia turned away from me..." (2 Tim. 1:15). Look at him when everything which would inspire to faithfulness is breaking down. He is left practically alone. He has more enemies than ever. And now the tragedy, the pathos is that so many of his enemies are those to whom he has been most used. While there were enemies without it was not so difficult, but now the very people for whom he has spent himself have become his enemies. But there is no thought, no hint, no suggestion of giving up. His word is, "...faithful unto death...." This steward was faithful. You cannot say that, when he died, the situation outwardly testified to tremendous success. It did not look like that at all. Paul's life was not vindicated up to the hilt. No! He died largely a lonely man, but faithful, "...it is required in stewards, that a man be found faithful." But what enrichment of others may follow from the meeting of that requirement, costly as it is. Paul is not dead! I only hope that Paul knows of all that has sprung from his ministry, all that his ministry means to us. The Lord has met us through His servant, and we never, never get to the depths or anywhere near the bottom of the fullness of Christ that has come through Paul. We shall go on, and, if we live twice or three times the length of our present life, we shall still be making discoveries of what we owe to Paul's faithfulness as a steward. That has been going on century after century.
That is faithful stewardship, and although the steward may be called away from his earthly stewardship, the stewardship goes on. Faithfulness is always rewarded beyond our wildest dreams. May the Lord maintain us in faithfulness, even though that faithfulness may sometimes involve us in an appearance of utter failure. The Lord make us good stewards.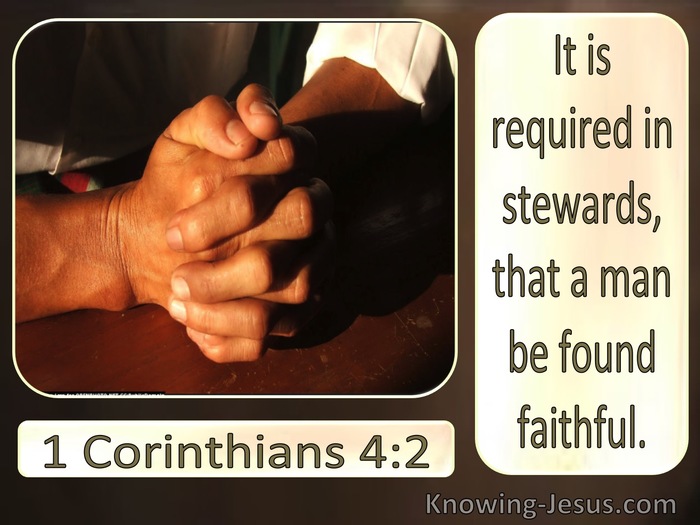 Open Windows messages have been selected and compiled by Austin-Sparks.Net from the works of T. Austin-Sparks. In some cases they appear in abridged form. The introductory verse and its associated Bible version have been selected by the editor and did not always appear within the original message. In keeping with T. Austin-Sparks' wishes that what was freely received should be freely given and not sold for profit, and that his messages be reproduced word for word, we ask if you choose to share these messages with others, to please respect his wishes and offer them freely - free of any changes, free of any charge and with this statement included. Print books can be ordered from Emmanuel Church free of charge.